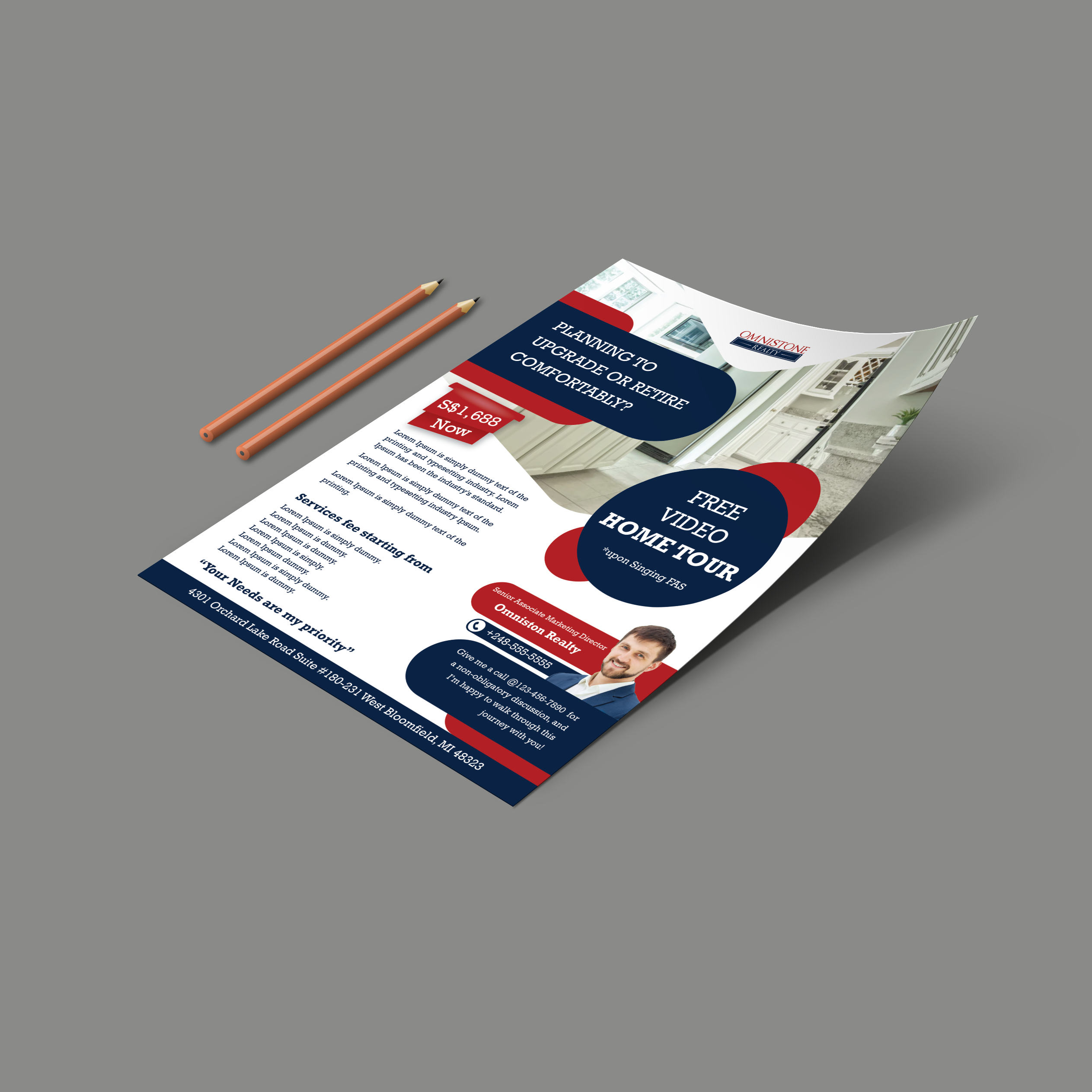 In today's competitive real estate market, effective marketing strategies play a vital role in attracting potential buyers and promoting your brand. At DesignoFly, we take pride in being a renowned creative design agency offering a wide range of design services worldwide. We are excited to have partnered with the esteemed real estate company, Legendary Group, to enhance their promotional efforts. Through a series of meticulously crafted business flyers, we have empowered Legendary Group's real estate brand, Omnistone Reality, to reach new heights in their marketing campaigns. In this blog post, we will delve into the ways in which our thoughtfully designed flyers have helped Omnistone Reality soar above their competition.
Eye-catching Visual Appeal: At DesignoFly, we understand that captivating design is crucial in grabbing the attention of potential buyers. With our expertise in graphic design, we create visually stunning flyers that command attention at first glance. By incorporating high-quality images of properties and utilizing appealing color schemes, we ensure that our flyers catch the eye and make a lasting impression on prospective clients.
Clear and Concise Information: Effective real estate flyers need to convey essential information in a concise yet compelling manner. At DesignoFly, we excel in crafting flyers that strike a perfect balance between providing vital details and maintaining a visually appealing layout. With carefully chosen typography and strategic placement of key information, our flyers for Omnistone Reality effectively communicate property features, pricing, and contact information. This enables potential buyers to make informed decisions.
Customization for Targeted Campaigns: We understand that different properties and target audiences require tailored marketing approaches. That's why we work closely with Omnistone Reality to create flyers that align with specific campaigns, such as new property launches, seasonal promotions, or targeted geographic areas. By customizing the flyers to suit these unique marketing objectives, we ensure that Omnistone Reality reaches the right audience with the most relevant information.
Seamless Integration with Digital Marketing: In today's digital age, an effective real estate marketing strategy involves a seamless integration of online and offline efforts. At DesignoFly, we ensure that the flyers we create for Omnistone Reality align with their digital marketing initiatives. By incorporating QR codes, website URLs, and social media handles, our flyers act as bridges between traditional print advertising and the digital realm. Potential buyers can easily access additional property information or connect with Omnistone Reality's online platforms, enhancing the overall promotional reach.
Brand Consistency and Recognition: We recognize the importance of establishing a strong brand presence for Omnistone Reality. That's why we maintain consistency in design elements, including logo placement, color schemes, and font choices, across all the flyers we create. This consistency helps create a recognizable brand identity and strengthens Omnistone Reality's market position. With each flyer, we reinforce the brand's visual identity, ensuring that potential buyers easily associate the quality and professionalism of Omnistone Reality with its captivating marketing materials.
Conclusion: At DesignoFly, our partnership with Legendary Group's Omnistone Reality has proven to be a game-changer in the realm of real estate promotions. Our creative and strategic approach to designing business flyers has elevated Omnistone Reality's marketing efforts, making a significant impact on attracting potential buyers and enhancing brand recognition. Through eye-catching visuals, concise information, customization for targeted campaigns, integration with digital marketing, and brand consistency, we have played a crucial role in Omnistone Reality's success story. As we continue to collaborate, Omnistone Reality can confidently rely on our expertise to create impactful flyers that drive their real estate business forward.
Please feel free to visit our Behance Portfolio for more.